The 11th UESI BAMI-I Annual Utility Investigation School (UIS)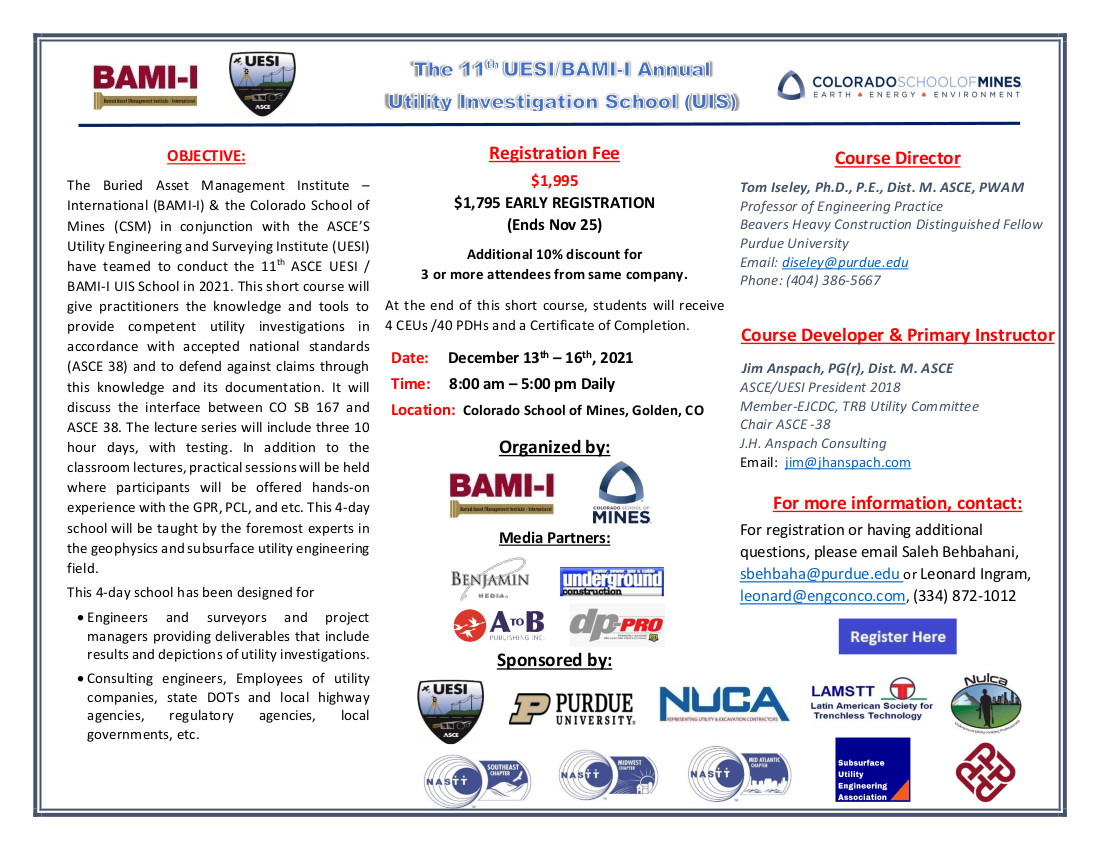 December 13th, 2021 - December 16th, 2021
8:00 AM - 5:00 PM
Colorado School of Mines
1500 Illinois St
Golden, CO
The Buried Asset Management Institute – International (BAMI-I) & the Colorado School of Mines (CSM) in conjunction with the ASCE'S Utility Engineering and Surveying Institute (UESI) have teamed to conduct the 11th ASCE UESI / BAMI-I UIS School in 2021. This short course will give practitioners the knowledge and tools to provide competent utility investigations in accordance with accepted national standards (ASCE 38) and to defend against claims through this knowledge and its documentation. It will discuss the interface between CO SB 167 and ASCE 38. The lecture series will include three 10 hour days, with testing. In addition to the classroom lectures, practical sessions will be held where participants will be offered hands-on experience with the GPR, PCL, and etc. This 4-day school will be taught by the foremost experts in the geophysics and subsurface utility engineering field.
Additional 10% discount for 3 or more attendees from the same company. Please contact Salah Behbahani, [email protected], or Leonard Ingram, [email protected], (334) 872-1012.
ATTENDEE FEES (SELECT ONE)
Registration Fee
At the end of this short course, students will receive 4 CEUs / 40 PDHs and a Certificate of Completion.
Pay Over Phone Option
A BAMI-I representative will call you to take your credit card information over the phone.
Please complete all required fields.
To pay by credit card, select the type. Otherwise, click PayPal to pay with PayPal.