We are thrilled to announce that our BAMI-I Executive Director, Wei Liao, has received an honorable mention award from the Underground Construction Association for the 2023 UCA Photo Contest! (https://www.smenet.org/UCA/Professional-Development/Awards-Competitions/UCA-Media-Contest/2023-UCA-Photo-Contest-Winners)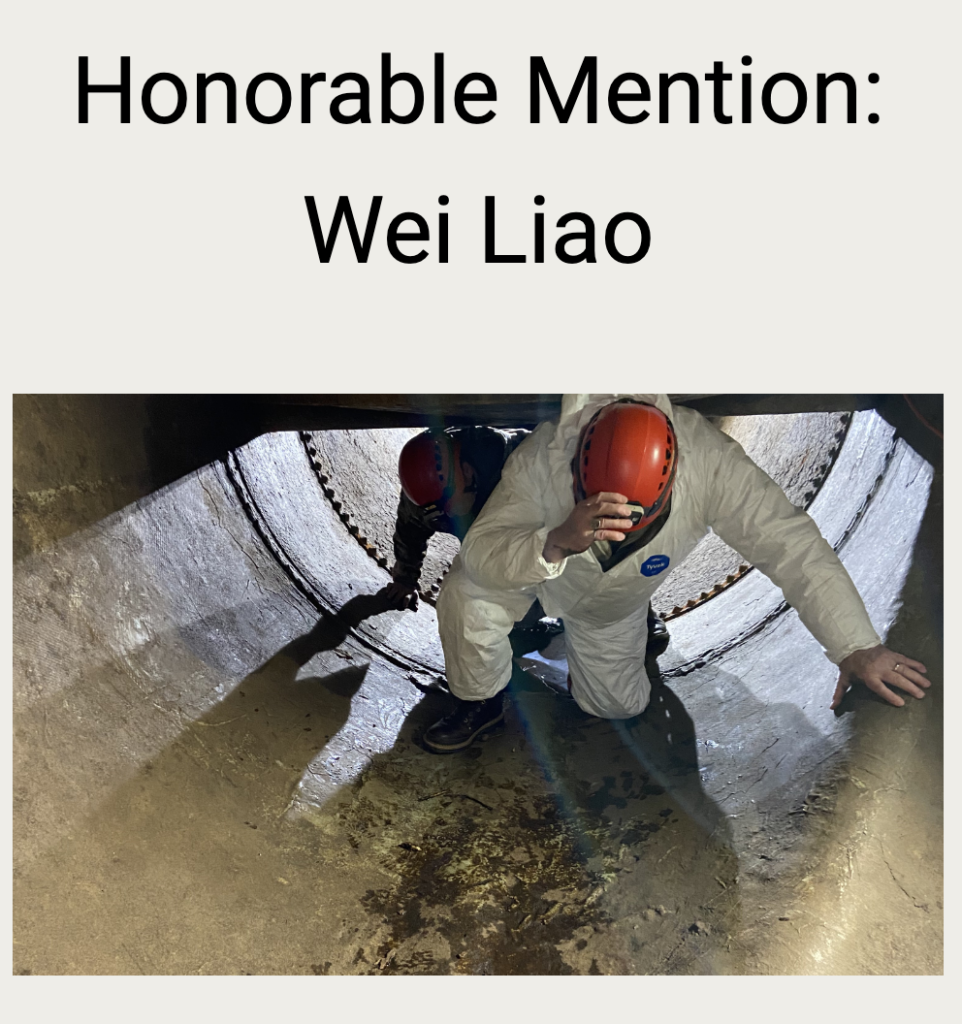 In the BAMI-I Inaugural Journal's cover photo story (download here: https://bami-i.com/2022-bami-i-journal/), you can discover some fascinating background information about this photo: Quake Wrap's FRP technology (see ad page 46) was applied to the Lake Lure Dam penstock rehabilitation project, extending the life of penstock by 50 years. Dr. Tom Iseley (orange hard hat) & Ms. Wei Liao participated in the second warranty inspection on January 6, 2022.
Dr. Tom Iseley's achievements in the underground engineering field are inseparable from his deep passion for his work. From the age of 12, he has been involved in underground construction, following in the footsteps of his grandfather and father. He has dedicated a significant portion of his life to exploring and advancing underground engineering. Over 30 years ago, he established the Trenchless Center and became a pioneer in this field. Today, trenchless technology has flourished in the United States.
The same story happened in the asset management field. Recognizing the importance of underground asset management, he founded BAMI-I 20 years ago.
Today, Dr. Tom Iseley remains actively engaged in both academia and industry. He serves as a professor of practice at Purdue University and leads the development of BAMI-I. He has devoted over 20 years of effort to BAMI-I and is delighted to witness the transformation of asset management practices from a foreign concept to widespread awareness and acceptance.
What excites him the most is the upcoming inaugural Global Buried Asset Management Congress (GBAMC), scheduled to be held in Tinley Park Center, Chicago, IL, on September 28-30, 2023. Dr. Iseley emphasizes that this congress will provide a unique platform for visionaries, industry leaders, and experts to come together, exchange ideas, and shape the future of the evolving world of underground infrastructure. He welcomes everyone to join GBAMC and be part of this transformative movement, contributing to the sustainable development of the underground infrastructure industry.