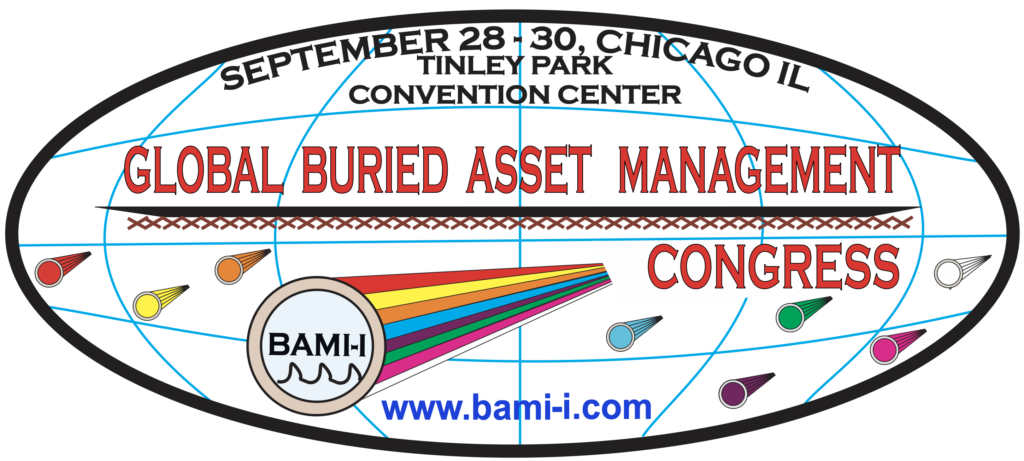 The Buried Asset Management Institute – International (BAMI-I) is proud to announce its first-ever Global Buried Asset Management Congress (GBAMC), scheduled to take place on September 28-30 in Tinley Park Convention Center, which is located in the southern region of Chicago. This congress aims to advance the science and practice of asset management in the underground infrastructure industry, with a main focus on the water and wastewater sector and other utilities that have buried assets.
The GBAMC will bring together subject matter experts from around the world to identify the state-of-practice and present strategic future directions in buried asset management. The congress aims to establish a comprehensive set of global directions for the industry, addressing the challenges of managing buried assets and ensuring their longevity and efficiency. Buried infrastructure serves as the lifeline of societies worldwide, requiring effective management to ensure its health, remaining service life, and timely maintenance. GBAMC will focus on advancing the science and practice of asset management under the theme " Buried assets: out of sight but not out of mind through advancing the science and practice of asset management." Key areas of emphasis include implementing best business practices for asset protection, advancing technology and management methods to enhance asset value, ensuring the longevity of buried assets through comprehensive health assessment and management, and ensuring compliance with current and future regulatory requirements.
Dr. Tom Iseley, President of BAMI-I, expressed his enthusiasm for the upcoming congress, stating, "Our congress is unique, as it is the only asset management congress focused on underground infrastructure. The Congress is proudly co-sponsored by BAMI-I and Purdue University. Under the leadership of Wei Liao, our passionate team is fully committed to providing an outstanding experience that surpasses all expectations. We have curated an impressive lineup of world-class speakers who will guide us into the future of buried asset management. We invite you to join us and become our valued partner in shaping the trajectory of this vital industry."
The GBAMC will offer attendees the opportunity to engage with asset management leaders, exchange knowledge and best practices, and gain insights into the latest trends and technologies. Stakeholders in the water and wastewater sector and other utility sectors that have buried assets from around the world will participate in this groundbreaking event.
GBAMC is an excellent opportunity for companies to demonstrate their commitment to Asset Management a, establish themselves as leaders in the field. As an exhibitor or sponsor, companies will not only have a platform to showcase their cutting-edge technologies and services, and network with industry representatives, but you will also have the opportunity to receive ongoing support from BAMI-I and Purdue University, enabling your company to achieve maximum industry influence and stay at the forefront of asset management practices.
The Congress program will cover a wide range of topics of asset management, including inventory and mapping, pipeline condition assessment, trenchless technologies, level of service, involvement, risk analysis, life cycle costing, long-term funding plans, research and education, and regulation compliance.
The Congress will take place both in-person and virtually, allowing participants from the United States, Canada, and other countries to attend. Registration is now open.
For more information about the GBAMC, including sponsorship opportunities, registration, and the detailed program, please visit https://bami-igbamc.com/.
About BAMI-I: The Buried Asset Management Institute – International (BAMI-I), a non-profit organization, has been at the forefront of promoting best practices in asset management to extend the life and efficiency of diverse buried assets, ranging from water and wastewater systems to gas distribution pipes and electric cables. Established in 2003, BAMI-I's mission is to foster collaboration between underground infrastructure owners, engineers, maintenance personnel, industry professionals, and researchers, with a focus on sound scientific practices and global application. By protecting public health, maximizing asset life-cycle value, improving the environment, sustaining economic development, and enhancing the quality of life, BAMI-I seeks to make a positive impact on society. Visit https://bami-i.com/ to learn more about BAMI-I.
Contact: Wei Liao, [email protected], 3184978288